Welcome Spartans!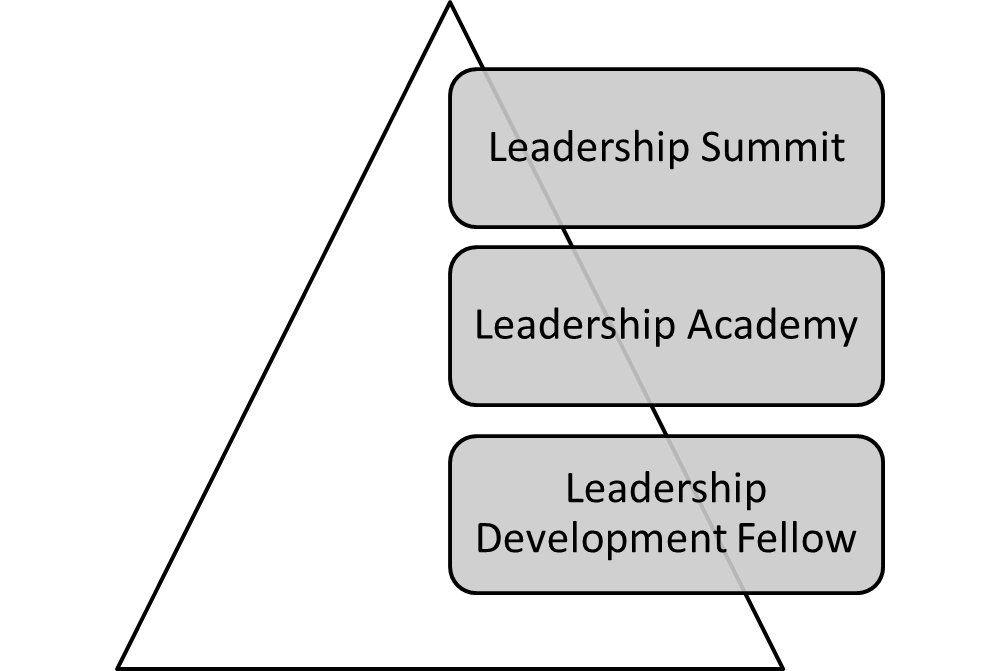 The Leadership Institute at Michigan State University exists to build a culture of leadership development among graduate students, professional students, and postdocs.  We want to empower these Spartans to take a proactive approach to their leadership development so they may make a difference in the classroom, community, university, and in the world.
The Leadership Institute is comprised of three main offerings. The Leadership Summit is an intensive one day conference held every fall semester.  The Leadership Academy is an 8-week cohort style developmental experience where participants design and execute leadership projects.  Leadership Development Fellows work during the school year to build community and leadership within their own colleges.
---

LEADERSHIP SUMMIT
Leadership is an essential competency expected by all employers and held in high acclaim. Institutions of higher education, corporations, agencies, professional organizations, and other employers are actively seeking advanced degree holders with strong, demonstrable leadership and management skills. However, the development of leadership is often neglected by most graduate students as they face the many challenges of graduate school. There is an emphasis on why leadership is vital for future jobs rather than on how a graduate student can develop their own leadership potential. The goal of the Leadership Summit is to rectify this problem and empower graduate and professional students to take a proactive approach to their leadership development so that they may make a difference in the classroom, community, university, and in the world.
The Graduate Leadership Summit is an intensive leadership conference held annually here at MSU in the fall. At the Summit, students have the chance to learn about leadership from proven leaders in a wide range of professional fields including higher education, government and business. Graduate students will learn how to develop and apply their leadership skills, knowledge, and abilities to all areas of their life. The Summit provides students an introduction to the overall Graduate Student Leadership Institute, its philosphies, and the other opportunities available including the Academy.
Topics covered at past Summits include:
The ability to inspire action in others
Skills such as conflict resolution, supervision, and project management
The ability to create and follow you own personal leadership action plan
Social and emotional intelligence
Leading in context
Information about how to get involved in campus and community organizations immediately
A few moments from the Leadership Summit 2015 & 2016
| | | |
| --- | --- | --- |
| Dr. Matt Helm, Director of Graduate Student Life & Wellness presenting at the Leadership Summit | Graduate Student Life & Wellness staff | Leadership panel in discussion |
LEADERSHIP ACADEMY
What is the Leadership Academy?
The Academy is an intensive, cohort style, developmental experience that happens every spring semester. The vision of the Academy is to create a learning community of engaged scholars from diverse disciplinary backgrounds who will apply theories and principles of leadership to their current contexts and beyond.
Participants will attend weekly workshops where they will engage with advanced leadership concepts through discussions with leaders on and off campus. They will identify their own strengths and growth areas as leaders. They will work on teams that will design and execute leadership development projects. Projects in the past have focused on improving or creating Graduate Student Organizations, organizing service projects, researching leadership development opportunities on campus, and working to overcome personal barriers to leadership. Workshop topics from this past year included Sacrificially Inclusive Leadership, Ethical Decision Making, and Restorative Justice. 
How will the Leadership Academy help me?
Employers are looking to hire people with tangible and transferable leadership experience. The Academy will help you understand and develop who you are as a leader, show you different leadership perspectives, and give you exposure to leadership in practice. The Academy is based on a research-driven leadership framework that develops holistic leaders through four foundational pillars: Personal Leadership, Relational Leadership, Functional Leadership and Contextual Leadership. You will also benefit from the support and challenge of working with students from different disciplinary contexts.  
When is the Leadership Academy?
The Academy will begin with a mandatory all-day retreat on Saturday, January 13th from 9:30-4:30 p.m. Starting the following week, we will meet every Thursday evening from 6-8:30 p.m. starting January 18th through March 2nd. We will provide an optional dinner for those interested at 5:30 p.m. Participants need to be able to attend each session, however accommodations can be made if no more than one session is missed, not including the retreat.
How can I apply?
Applications are due by 5:00pm on Friday, November 17th, 2017.  Selections will be made before the end of the semester.  For accepted students, there is a $25 administrative fee that we will collect at the retreat.  Please click here to begin the application 

For more information or if you have questions, contact Meg Akehi at  akehimeg@msu.edu
---
LEADERSHIP DEVELOPMENT FELLOWS
In colleges across campus, Leadership Development Fellows serve as liaisons between Graduate Student Life & Wellness and the peers in their college. Fellows lead by creating greater awareness of and increasing attendance at leadership development activities. Additionally, they aim to increase belonging and community within the college.